Yoga Teachers/Class Style
MEET THE YOGA TEACHERS
Kathy Stanton is a 2017 and 2019 graduate of The Hard & the Soft 200-hour yoga teacher training course taught by the acclaimed yoga teacher, Beryl Bender Birch. Her certifications are in Mindful Yoga for Veterans and Boomer Yoga. Kathy believes there is an abundance of wisdom that guides her practice and grounds her in the present, quieting an otherwise busy mind. Kindness, compassion and gratitude shape how she interacts with the world. She helps you recognize when judgments, anxiety, or worries have taken hold of your thoughts causing your prana (life energy) to drain and gently guides you back to making better choices for yourself. "All that from yoga?" you ask. Yes, and more!
Kathy is a retired elementary school principal, a position she had for over twenty years, following 15 years as a reading specialist. An educator at heart, Kathy completed her doctorate at Boston University, receiving the title, Dr. Kathleen Stanton. She now lives in South Berwick. Spending time with her grandson and long leisurely walks with her dogs are true sources of joy for her. Another grandbaby is on the way in late spring 2021!
Class: Ashtanga Gentle Flow
Kathy guides you through a gentle flow routine with just enough punctuation to keep you moving forward in your practice. She welcomes beginners as well as more accomplished yogis into her classes. Local veterans are often drawn to take Kathy's predictable, steady paced classes.
Cindy McLin Vokey is a graduate of The Hard & The Soft Institute, a prestigious and comprehensive Yoga Teacher Training program, directed by internationally renowned yoga teacher trainer and author, Beryl Bender Birch. Cindy is a Licensed Clinical Social Worker, specializing in end-of-life care, grief response, and mental health. She is passionate about facilitating the exploration of modalities that enhance coping strategies, promote healing and support post-traumatic growth.
In her spare time, you might find her walking in the woods with her Rottie, experimenting with a new recipe, or curled up with a good book.
Class: Ashtanga
The 8-limbed path of yoga has become an integral part of her tool kit for helping people to integrate mind and body, develop awareness, cultivate gratitude, and find the "sweet spot" in each moment.
Erica Hoven began a consistent yoga practice in 2014 to find relief after a running injury. I signed up for teacher training with the intention to learn more about yoga and to deepen my own personal practice. After graduating from The Hard & The Soft Yoga Institute's 200 hour teacher training program in 2016, I was blessed to begin teaching. In 2017, I completed Mindful Yoga Therapy for Trauma and Y12SR: The Yoga of 12-Step Recovery trainings. In 2020 I graduated from Yoga Darshana: Yoga on the Hill Immersion 200 hour teaching training program.
When I'm not teaching yoga, I love to explore the Seacoast with my partner Rob and our goofy, 120 pound lap dog, Dewey.
Class: Functional Yoga, Ashtanga
My classes are a reflection of honoring traditional lineages of yoga and my love of exploring movement and strength building. I am a student first and foremost, and it's an absolute joy and privilege to share what I learn with others.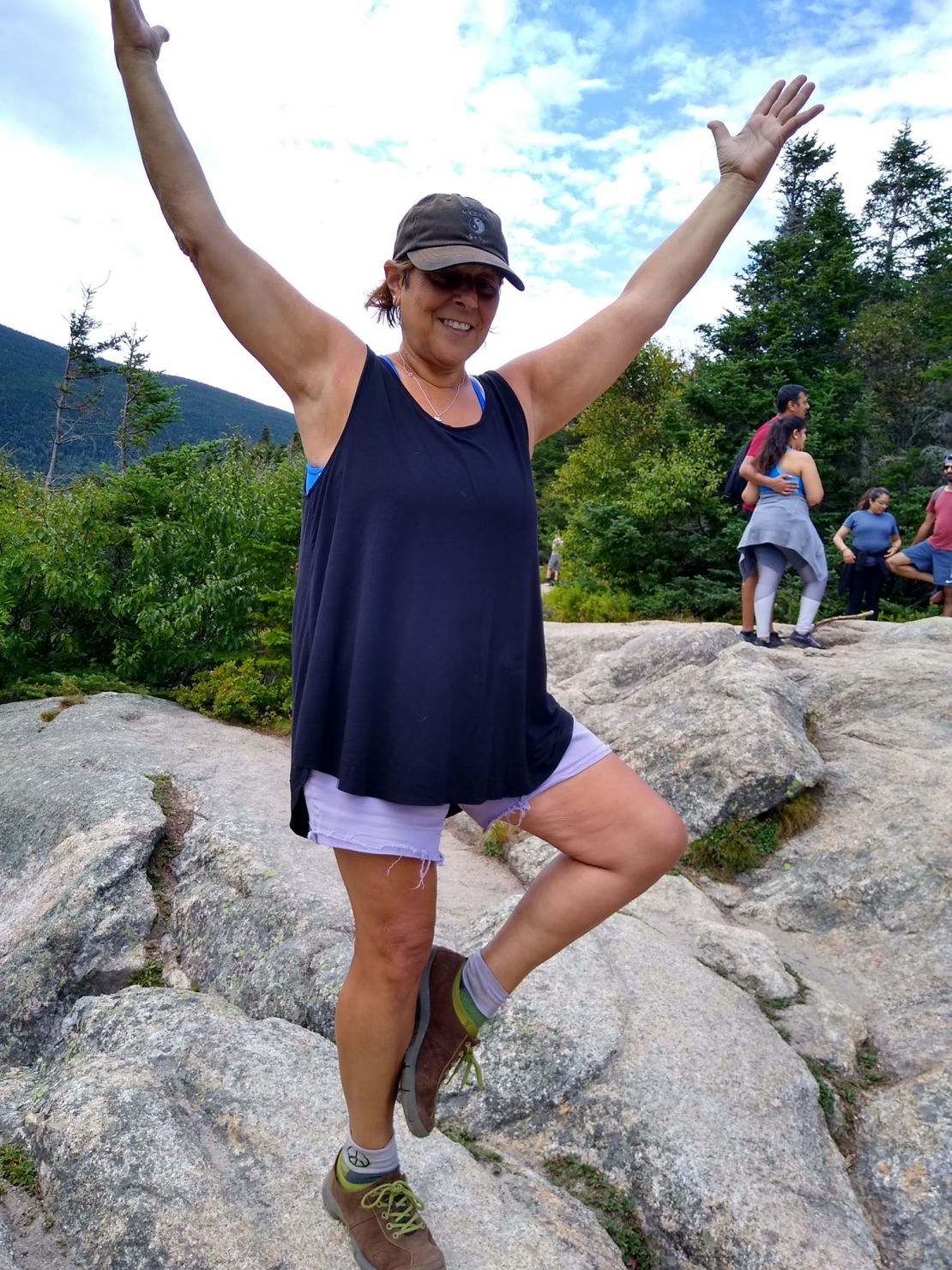 Cathy Calandriello was a Special Education teacher from 1984-2019 and holds a Master's Degree in Special Education, along with several teaching certifications. She first became a practicing yogi in January, 2009 as part of a New Year's resolution to try new things. While Cathy soon fell in love with the physical aspects of yoga, it was not until she began to share her yoga practice with her students that she noticed the benefits that extend beyond the mat. Cathy became certified as a ChildLight Yoga instructor in 2014 and has since taken several courses through ChildLight in teaching yoga to persons with special needs and disorders. Cathy was trained in Vinyasa Flow in 2016 through Happy Love Yoga RYS with Sarah Jones and is a RYT-200 with Yoga Alliance. Cathy also received her Yoga Therapy Certification through Breathing Deeply in August, 2019 Master Reiki Certification in October, 2019. Cathy hopes to continue and expand her practice of yoga and alternative therapies to improve the lives of people of all abilities.
Class: Vinyasa Flow
Cathy believes in the power of yoga to increase focus, attention and self-esteem and to bring an awareness to all of the good in the world in which we live. Cathy's desire when teaching a yoga class is to bring a complete experience…physical, spiritual and mental……to all participants.